Fairy gardens are kid-friendly gardening projects for the spring.
These imaginative container gardens provide children with a small, planted play space of their own with limitless opportunity for make-believe and customization.
---
Fairy Garden Ideas
---
Check it about the best fairy garden ideas.
1. Fairy Herb Garden
The fairy herb garden aims for practicality and simplicity.
It is planted with easy-to-maintain herbs that can form part of dinner later along with creative details such as toadstools fashioned from bottle corks.
To get started one requires a planter or you can simply repurpose old water tables no longer in use.
2. Birdhouse Fairy Garden
This beautiful little fairy garden uses unfinished wood birdhouses found in garden or craft stores as the centerpiece.
Children will have fun painting the small houses and layering in additional details such a stone walkway and a white picket fence.
To brighten the scene a bit further, let the children pick out some cheerful flowers.
3. Tree Stump Fairy Garden
The tree stump fairy garden is one way of transforming that ugly tree stump into a beautiful play space and work of art.
You can change the tree stump into a lovely mini garden complete with a ladder leading to the 'grassy' roof as well as a tiny broom for sweeping after the fairy messes.
4. Miniature Fairy Garden
This fairy garden is ideal for those with limited space or interested in year-round play space that is easy movable indoors once temperatures plunge.
Choose a smaller container and don't forget to scale back on the accessories and plantings you use.
While there might not be ample space for the fairy house, a couple of chairs or a teepee will work well.
5. Beach Babe Fairy Garden
Any container will work for this beach themed fairy garden. However, choosing one with a bright color works particularly well for the summer theme.
Select a few beach accessories such as an umbrella and beach chair and add a few plants, maybe some palm trees or something reminiscent of dune grass.
Finally, add sand to the top of the planter as well as blue-colored pebbles or stones to create a faux ocean.
6. Toadstool Fairy Garden
Toadstools are always a welcome addition to fairy gardens.
However, this particular one uses the toadstool as the main house thus creating a woodland theme.
You can buy a mushroom house at a garden center to accessorize.
However, you can also include homemade elements including a pecan shell laundry basket and an upturned oyster shell for the pool.
7. Fairies With Wheels
For this fairy garden, upcycle an aging wheelbarrow or outgrown kids' wagon for a spacious garden that is just of the perfect height for planting by small hands.
To provide drainage for the plants, drill several holes at the bottom of the wheelbarrow or wagon. Afterwards, the options are simply limitless. Spray paint a rusted out wheelbarrow to a fantastic new fairy shade such as sky blue.
Mentioned here are the best fairy garden ideas. Children are bound to be captivated by these ideas and they will make for wonderful playtime and memories for them.
---
More Fairy Garden Ideas
---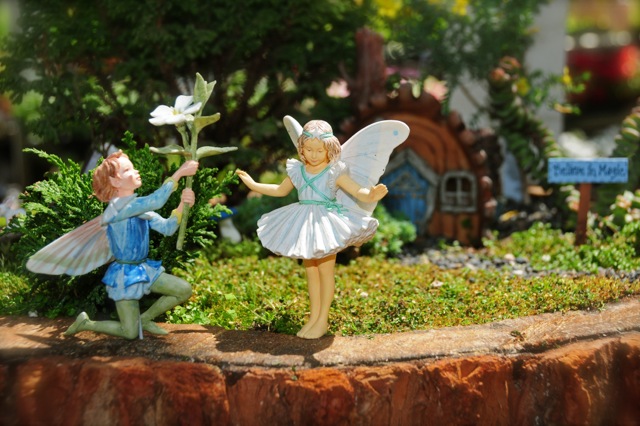 These are just a few Awesome And Beautiful Fairy Garden Ideas, as there are plenty of them as long as you can play with your imagination.